Autor: Frànçois Marry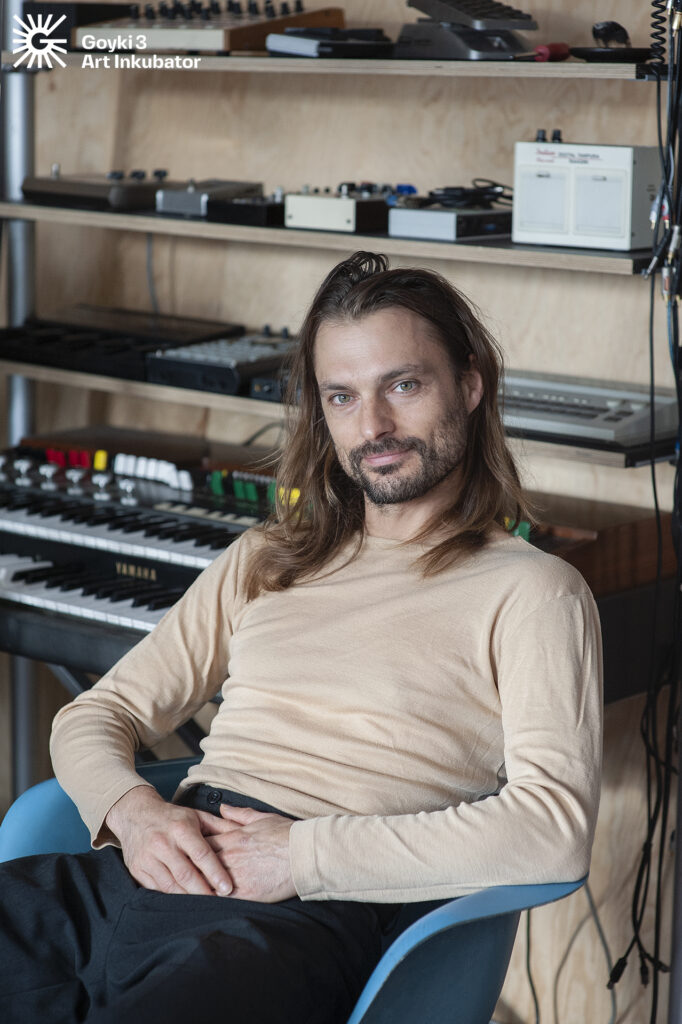 A few words about the residency in Sopot
I heard about the residency from fellow musician and friend "Ouais Stephane". I had told him about my project to record my next album in various cities on the "outskirts of Europe " and he recommended Sopot. Since my previous works had been done in Bruxelles, Berlin, Paris and Athens, I was keen to focus on places that were more on the margins of the continent. Soon after I got selected I started to read more about Poland and Tricity, and it appeared clear that, more than being remote, the area was a very pivotal point in the history of Europe.
My goals when applying to the residence was to do an immersion in sound but also to exchange with local artists to understand how they viewed their position as a musician in their society. I like to do so in a non-journalistic way, just by following the musicians in their casual life. In that way I managed to attend some jazz sessions, a couple of home concert, swim in the Baltic Sea and even went at 5am to the northern coast to watch some surfers at sunrise.
I had lengthly conversation with a pianist, a trumpet player and a couple of singers. We talked about incomes, music business, and the political context. It appeared clear that the period was tricky but that the polish music scene was thriving and keen to develop.
In France the system is very protective of the artists, and we hardly express how lucky we are. It takes only a few trips abroad to understand our lifestyle would not be the same if we had been born in another country. This is a big part of the travelling experience.
I was fascinated by the look and the history of Gdansk Stocznia . I did a few field recordings there and integrated the sound of metal cranes in some compositions. I also took notes of some scattered sentences that I heard in various conversations. I used the "cut-up" or "cadavre-exquis" technique of putting together sentences heard in different situations. For example during a conversation about some recent political controversy someone said "There was this famous text message" . Another time someone said to me: " it's 5 am and you're alive", he was a surfer at dawn, it was freezing and I looked sleepy… I gathered all these little sentences, like scattered points on a foreign map, then I asked NemaLala (a singer I met at a jazz session in Gdansk) if she could translate them in a way that made the best use of the poetic sonorities of polish language. And we recorded a song called "Opieka & Zniszczenie " (Care & Destruction).
The studio Goyki 3 provided had a lot of synths and musical tools to play with so I took that opportunity to create electronic sounds I had rarely allowed myself to produce before. Along with co-resident Joseph and Fred we invited Luba (clarinet) Tomasz (trumpet) and Anetta (singing) to improvise on those newly found sound textures.
Overall the residency in Sopot gave me the opportunity to discover a country where I met generous and vivid personalities. I was able to experiment with my compositions, and share them collectively in a way that most environments with strict commissions don't provide. Their was an open minded approach all throughout our stay. I'm hoping to stay connected to the people I met there.
Frànçois Atlas
Frànçois Marry (Frànçois & The Atlas Mountains) François & the Atlas Mountains are a stylistically inventive indie pop outfit fronted by French singer/songwriter François Marry. The band formed in the mid-2000s when Marry was living Bristol, England, and continued to evolve both in sound and personnel over the coming decade when he returned to France. Incorporating a panoply of global elements into their lush pop sound, the group signed with Domino Records and released a string of well-received albums like 2012's E Volo Love and 2017's Solid Mirage. After a solo outing, Marry revived the Atlas Mountains project in 2021 with their shimmering synth-driven sixth album, Banane Bleue.
A native of Saintes, France, in 2003 Marry relocated to Bristol, where he began performing as a solo artist and as a touring member of Scottish indie pop band Camera Obscura. After a 2004 solo release titled Les Anciennes Falaises, Marry recorded his second album, The People to Forget, with a group of friends who became known as the Atlas Mountains. The 2006 release came out on local indie Stitch-Stitch Records. In 2008, he returned to France and became involved in a number of other projects that influenced the worldbeat-meets-dream pop approach of his 2009 album Plaine Inondable, released by Bristol-based label/collective Fence Records.
Continuing to employ a variety of different musicians and styles, François & the Atlas Mountains signed to prominent indie Domino Records to release 2012's E Volo Love. After splitting his time between the U.K. and France, Marry settled into his native country to record the band's fourth LP, Piano Ombre, which was released in March 2014. The wildly varied and more politically charged Solid Mirage followed in 2017, after which, Marry returned to solo work. Setting the texts of legendary French poet Baudelaire to music, he released the ambitious Les Fleurs du Mal in 2018 on the Silène label.
Throughout the band's various incarnations, François & the Atlas Mountains have remained relatively fluid in their lineups, but on their sixth outing, Marry took sole possession of the project, aided only by Finnish synth pop producer Jaakko Eino Kalevi and mixing engineer Renaud Letang. Released by Domino in early 2021, Banane Bleue featured a languid tone, introspective songwriting, and an understated synth-driven feel. ~ Timothy Monger, Rovi